A timber management operation has begun in the Korstian Division. This division is named for the first director of the Duke Forest and the founding dean of the Duke School of Forestry, Dr. Clarence Korstian. Korstian began management of the forest's timber resources at its inception in 1931 as he and his crew worked to restore abandoned and degraded agricultural fields. These are the areas that remain in production today via our sustainable timber management program.
For safety during the timber harvest, the Gate 23 parking area will be closed and public access will be restricted along Concrete Bridge Road and Wooden Bridge Road for approximately four weeks (including weekends). Please comply with all posted signage, and note that six other public access gates are located nearby (1 on Mt. Sinai Road, 3 on Whitfield Road, 1 on University Station Road, and 1 on Murphy School Road).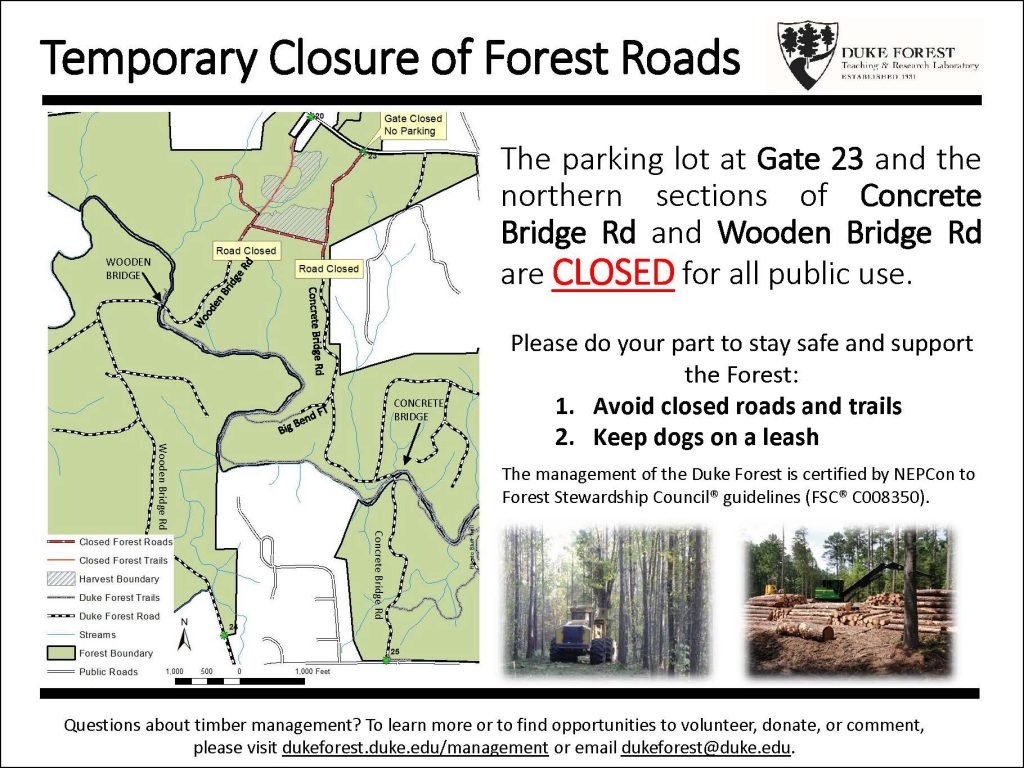 We understand that the Duke Forest has provided a respite from the challenges people are facing during the COVID-19 pandemic. However, it is essential that the closure of this area be strictly followed to ensure the safety of recreational users and the logging crew. Safety is Duke Forest's highest priority, and thus a temporary closure of this area is necessary.   
The Korstian Division is located north of Chapel Hill and falls entirely within Orange County. New Hope Creek – one of our region's most ecologically important creeks and an important contributor to drinking water – flows through the middle. Along its banks, the New Hope Creek Slopes Natural Heritage Area is home to a great diversity of plants and animals. The division also hosts many research projects and is a critical corridor for wildlife in our region. Timber management only occurs in pine-dominated areas that fall outside of any major harvest constraints, which include natural heritage areas, stream buffers, and research sites, among others.
Timber management provides a diverse set of ecological and economic benefits to the Duke Forest, including supporting the teaching and research mission and maintaining healthy forest stands. We make every effort to minimize the impacts of timber management on our neighbors and the public. While the logging crew is on-site, we work closely with them to ensure the operation is carried out with strict adherence to best management practices and the additional criteria we put in place to protect natural and cultural resources.
What will this material become?
Trees from this harvest will go into long-lived wood products, so they will continue to store carbon.
The majority will go to Canfor Southern Pine in Graham. This mill creates dimensional lumber and uses virtually 100% of the wood fiber that comes to the mill by capturing it for energy production.
Smaller trees and tree tops will go to a Louisiana-Pacific mill in Roxboro and be used to make Oriented Strand Board (OSB). OSB is widely used in the building industry. With 75% of the structural wood paneling market, there is a good chance your home was built with OSB.
Duke Forest will keep a portion of the cedars from the site to make our silviculture signs and use on the forest.
If you have any questions or concerns, please contact our office at dukeforest@duke.edu. Thank you for your understanding and support of the Duke Forest. For additional information about the Duke Forest and our mission, please visit the Duke Forest website at dukeforest.duke.edu.