by Andrea Kolarova, Operations & Management Summer Intern
If you have visited the Duke Forest recently, you may have seen me driving my truck along the gravel roads on a trail maintenance mission, or spotted my blue and white cap between the trees as I investigate ash trees for my research project. I'm Andrea Kolarova, the new Operations and Management Summer Intern, and I'm thrilled to be spending three and a half months with the Duke Forest team.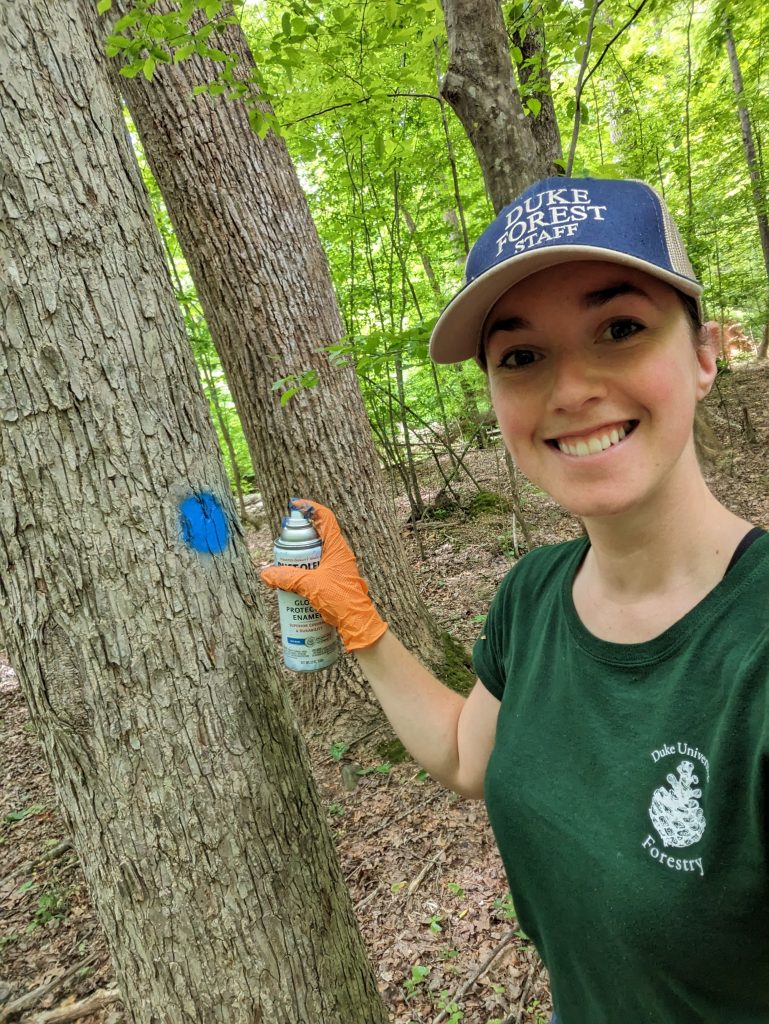 My journey to forestry began three years ago when I graduated college during the early days of the pandemic. After earning my B.S. in Environmental Sciences from Duke, I joined an AmeriCorps American Conservation Experience (ACE) crew for two terms of service. Though this experience, I traveled and worked in public lands, from the Grand Canyon in Arizona to the New River Gorge in West Virginia. The work weeks were long and difficult, and many of our worksites required us to camp in backcountry conditions for up to eight days at a time. Despite how challenging this was, I found myself feeling excited to start a day of work – especially when we were in the woods. I began asking questions about the assignments I liked the most and I repeatedly heard "you should become a forester."
In the Fall of 2021, I returned to Duke and Durham. This time, I was enrolled as a Master of Environmental Management and Master of Forestry graduate student. I am now entering my fifth and final semester, which means I will soon be presenting the capstone of my educational journey: my Masters Project.
My Masters Project is what brought me to the Duke Forest this summer. My research centers on the Emerald Ash Borer, and invasive beetle that was first reported in the Duke Forest in 2017. Over the past five years, the Emerald Ash Borer has been negatively affecting ash trees found in the Duke Forest, leading to ash decline and, eventually, ash mortality. My project seeks to quantify the amount of loss the Duke Forest hardwood stands are experiencing, and to model into the future the economic and ecological shifts that may occur. This summer I have designed and implemented data collection in the field, and I will be completing the modeling and writing portions in the Fall.
In addition to working on my research, I am assisting the Duke Forest field team with various tasks, including a couple bigger projects. Duties have included trail maintenance, such as re-blazing trails, lopping and brush cutting, and inventorying infrastructure. This year we are also resampling 20% of our Continuous Forest Inventory (CFI) sites, which are permanent plots installed in 2019. The Duke Forest has a long history with permanent forest inventory plots, which has produced fascinating research about forest succession and silvicultural practices. The present-day plots continue the vision that began with Drs. Korstian and Coile in the 1930s and 40s, and I am honored to contribute to this long-term quest to better understand our forests. Additionally, I am wrapping up a year-long recreation study that was implemented by another Masters student. The result of this study will include a monetary estimate of the Duke Forest's value as a recreational asset, as well as provide detailed information about the types of recreational users and their perceptions. Through these projects, my own research, and the daily tasks I am presented with, I am applying my education and learning through experience.
Though I have been living in Durham for nearly seven years, I have never been as connected to the Duke Forest than now. My daily trips into the woods have opened my eyes to the stunning biodiversity these Piedmont forests have to offer. I have seen Northern Watersnakes sunning themselves along the banks of New Hope Creek, spotted flaming red Summer Tanagers flitting overhead, chanced upon mushrooms bigger than my head popping up from the leaf litter along the trail. Every day has been unique, exciting, and challenging, helping me apply knowledge and skills from the classroom and offering me a chance to get practical experience. In a final note of gratitude, I would like to thank Toney Lumber Company for financially supporting this internship. Thank you for joining me on this summer journey!