The 2022 Annual Gathering has been cancelled. We look forward to hosting this event in 2023.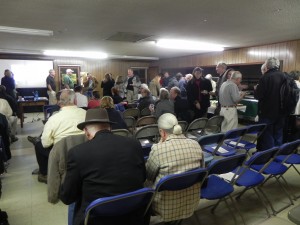 Every year, we gather on an evening in November to hear highlights about recent research, teaching, and forest management activities on the Duke Forest. We always showcase a special theme and host a guest lecturer on that topic. We also present winners of our annual photography contest and celebrate a person that has made a large impact on the Forest in the previous year with the Clarence F. Korstian Award. Great food, wine, and conversation is always enjoyed by all! Our Annual Gathering is an important opportunity for us to share with and hear from the diverse community of folks that care about the forest so we hope to see you in there! Check back for future event details and registration.
---
Past Annual Gatherings

2021 Annual Gathering – November 11th

In 2021 we celebrated the Duke Forest's 90th anniversary with a special virtual presentation of the history, impact, and future of the Duke Forest from Director Sara Childs. Though we missed the great food, wine, and conversation of years past, attendance was unrestricted by geography and we were excited for this opportunity to engage a larger network of Duke Forest enthusiasts through this virtual meeting platform.

You can watch the 2021 Annual Gathering by clicking the image below:

2020 Annual Gathering – Not Held
2019 Annual Gathering – November 7th
What an exciting year for Duke Forest staff and our community members. This year, the Annual Gathering moved to the beautiful new facility of the Forest History Society located on Academy Road in Durham. In the spirit of collaboration – this year's theme – we were delighted to host this event with the support of the Forest History Society. President Steve Anderson gave tours of the library, archival vault, and special building features.

Our registration was full at 100 people—with more still on the waitlist. Interest in the Duke Forest remains high. Duke Forest Director Sara Childs presented an overview of the past year in teaching, research, management, and community outreach. Our special guest presenter was NC Botanical Garden's Director of Conservation Johnny Randall, Ph.D. who shared extensively about habitat loss and the fragmentation of habitats in our region. He highlighted the recent work of the Eno-New Hope Landscape Conservation Group, a coalition of local conservation organizations including the Duke Forest who are working together to create a plan for wildlife habitat connectivity.

After Johnny's presentation Sara provided some more comments about the Duke Forest's involvement in the project and then announced Duke University's purchase of land adjacent to the Blackwood Division that will help to protect ongoing research and the Meadow Flats Natural Heritage Natural Area.

Nicholas School of the Environment faculty member Nicolette Cagle, Ph.D. presented the 2019 Clarence F. Korstian Award to all of the 2019 Herpetofauna Citizen Science program volunteers for their dedication to the program. The program provides data that will help us better manage the Forest for these species and that will benefit future research.

Overview and Project Updates slides (Sara Childs)
Habitat Connectivity presentation slides (Johnny Randall)

2018 Annual Gathering – November 8th
Biodiversity & Citizen Science

Thank you to the attendees of our 2019 Annual Gathering. We filled the New Hope Improvement Association with over 100 community members eager to learn more about ongoing activities in the Duke Forest. Food, wine, conversations and connections started the evening. Director Sara Childs gave an overview presentation with project updates for the preceding year in the Duke Forest. Ecology Ph.D. student Rebecca Dalton then shared with us about her research examining the link between climate change, the timing of life cycle events, and how spring ephemeral plants interact for shared resources in the Duke Forest. After Becky's presentation, Assistant Director Jenna Schreiber talked about citizen science in the forest and gave a recap of our first season of Herpetofauna of the Duke Forest and shared information about our new Tree Phenology project. We gave the 2018 Korstian Award to Tom Griffin who has been an ardent volunteer for the Duke Forest. And, finally, we revealed the winners of the Duke Forest Photo Contest.

Overview and Project Updates Slides (Sara Childs)
Biodiversity and Citizen Science Slides (Jenna Schreiber)

2017 Annual Gathering – November 9th
Wildlife: Home in the Forest
Thanks to everyone that attended the 2017 Annual Gathering! We enjoyed great food, wine, and conversation before hearing about all the Duke Forest happenings in the last year and learning about wildlife from Dr. Ron Sutherland, Conservation Scientist with the Wildlands Network. We revealed the winners of the Duke Forest Photo Contest and presented the Clarence Korstian Award to Judson Edeburn, our former resource manager, for his continued support of our operations. See photos on our Facebook page. Duke Forest: 2017 Year in Review
2015 Duke Forest Annual Gathering – November 12th
Forests in a Changing World
Thank you to all the Duke and Durham community members that participated in the 2015 Annual Gathering last week! We enjoyed hors d'oeuvres, wine, and friendly conversation before diving into a series of presentations on forest resilience. First, our Director, Sara Childs, updated us on research, management, education, and volunteer activities in the Duke Forest over the past year. Our guest speaker, David Halley, RF, CF, of True North Forest Management Services, gave us an overview of current and upcoming forest threats and how we can effectively manage for them. Sara ad Jenna Schreiber, the Duke Forest Operations Manager, followed this up by speaking on how forest threats are being addressed specifically in the Duke Forest. We announced the winners of the 4th annual Duke Forest Photo Contest, and the Clarence Korstian Award was presented to Nicki Cagl, PhD., a professor at Duke University in the Nicholas School of the Environment and great friend of the Forest. See November 2015 posts on our Duke Forest Facebook Page for photos.

2014 Duke Forest Annual Gathering – November 13th
Least Wanted – Invasive Species and their Impacts on our Forests
Many thanks to everyone that participated in this year's annual gathering; it was our largest crowd yet with over 90 community members in attendance! The evening was fun-filled with wonderful food, wine, and conversations. Sara Childs, Duke Forest Director, provided highlights about activities on the forest in the last year and updates on several important projects. Jenna Schreiber, Duke Forest Operations Manager, presented on invasive plants affecting the Duke Forest; and our guest speaker Kelly Oten, Ph.D, with the NC Forest Service, gave a great talk about the emerald ash borer and thousand cankers disease – two relatively new invasive pests threatening North Carolina. Duke Forest's graduate student assistants put together a wonderful resource table about invasive species with live specimens and lots of information sheets. We also unveiled the winners of our 3rd annual Duke Forest Photography Contest, and celebrated long-time and now retired Resource Manager, Judd Edeburn. He was presented with a plaque that will be located at the entrance of what is now the Edeburn Division. See presentations and pictures from the evening below and check out this great post about the annual gathering written by Duke's Director of Research Communications.
Duke Forest: Year In Review Duke Forest: Least Wanted