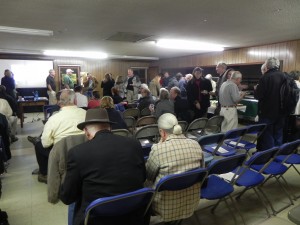 Every year, we gather on an evening in November to hear highlights about recent research, teaching, and forest management activities on the Duke Forest. We always showcase a special theme and host a guest lecturer on that topic. We also present winners of our annual photography contest and celebrate a person that has made a large impact on the Forest in the previous year with the Clarence F. Korstian Award. Great food, wine, and conversation is always enjoyed by all! Our Annual Gathering is an important opportunity for us to share with and hear from the diverse community of folks that care about the forest so we hope to see you in there! Check back for future event details and registration.
---
Registration is now closed for the 2018 Annual Gathering. If you would like to update your registration, please email Communication and Engagement Coordinator Blake Tedder at blake.tedder@duke.edu or call 919-613-8631.
---
2018 Duke Forest Annual Gathering
Biodiversity & Citizen Science
Thursday, November 8th, 6:00 p.m. – 8:30 p.m.
New Hope Improvement Association Community Center
4012 Whitfield Rd, Chapel Hill, NC
Overview and Project Updates Slides (Sara Childs)
Biodiversity and Citizen Science Slides (Jenna Schreiber)
Are you a researcher who wants to hear about other projects in the Forest? Are you a trail runner who would like to learn more about the teaching and research mission of the Forest? Are you an area educator that brings your classes into the Duke Forest? Are you a Forest neighbor who wants the latest news from your backyard?
Join us for our 2018 Annual Gathering with the theme of Biodiversity & Citizen Science. As a growing community of people who care for, utilize, and support the success of the 7,050 acre living laboratory and outdoor classroom called the Duke Forest, we will convene at our Annual Gathering to celebrate the year's highlights in teaching, research, and forest management. We will also grant the 2018 Korstian Award to a person who has contributed significantly to the Forest and to Duke Forest staff this year and reveal the Duke Forest Photo Contest winners. We are thrilled to have special guest speaker Rebecca Dalton, a Ph.D. candidate in Ecology at Duke University and a Duke Forest researcher, to share about her research in the Duke Forest and in the Rocky Mountain Biological Laboratory. Duke Forest staff will be in attendance as well to share updates from the Forest, including the launch of our first citizen science program this summer and our vision for the future of citizen science in the Forest
If you love the Duke Forest, you will want to be in the room! We hope to see you there.
About Registration: There is no cost to attend the Annual Gathering. RSVP today. Space is limited. Registration closes when capacity is met or Friday November 2nd. Please complete one form per attendee. You may use the same email address and phone for each person you are registering. Call or email the Office of the Duke Forest at (919)-813-6013 or dukeforest@duke.edu if you have any questions.
Speaker Highlight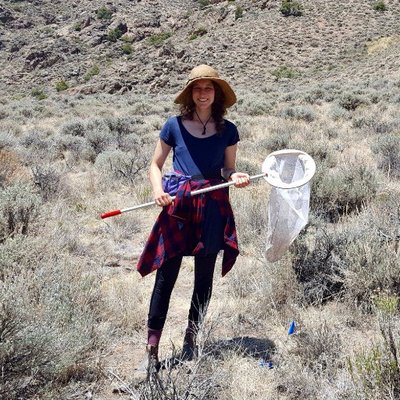 The time of the year when a plant begins to grow, produces flowers, and loses its leaves may be important for successful reproduction, survival, and future growth. Plants rely on environmental cues, such as temperature and the amount of sunlight, to time these life cycle events. Therefore, the time when a plant begins to flower can be very sensitive to climate change. However, not all plants respond similarly to the same environmental signals; some flowering species do not flower any earlier. As each plant species responds differently to warmer temperatures, species that didn't flower together in the past have the potential to overlap now. If plant species grow and flower at the same time, they could compete for resources (water, nutrients, soil, pollinators). My research examines the link between climate change, the timing of life cycle events, and how spring ephemeral plants interact for shared resources in the Duke Forest. In the 1980s, researchers studied the timing of flowering and competition for pollinators in forest herbs. I have spent the last few years returning to these old field sites and studying whether flowering time is earlier than it was in the past and how these co-flowering species share living and non-living resources. Read more about Rebecca's work here.
---
Past Annual Gatherings
2017 Annual Gathering – November 9th
Wildlife: Home in the Forest
Thanks to everyone that attended the 2017 Annual Gathering! We enjoyed great food, wine, and conversation before hearing about all the Duke Forest happenings in the last year and learning about wildlife from Dr. Ron Sutherland, Conservation Scientist with the Wildlands Network. We revealed the winners of the Duke Forest Photo Contest and presented the Clarence Korstian Award to Judson Edeburn, our former resource manager, for his continued support of our operations. See photos on our Facebook page.
Duke Forest: 2017 Year in Review
2015 Duke Forest Annual Gathering – November 12th
Forests in a Changing World
Thank you to all the Duke and Durham community members that participated in the 2015 Annual Gathering last week! We enjoyed hors d'oeuvres, wine, and friendly conversation before diving into a series of presentations on forest resilience. First, our Director, Sara Childs, updated us on research, management, education, and volunteer activities in the Duke Forest over the past year.
Our guest speaker, David Halley, RF, CF, of True North Forest Management Services, gave us an overview of current and upcoming forest threats and how we can effectively manage for them. Sara and Jenna Schreiber, the Duke Forest Operations Manager, followed this up by speaking on how forest threats are being addressed specifically in the Duke Forest.
We announced the winners of the 4th annual Duke Forest Photo Contest, and the Clarence Korstian Award was presented to Nicki Cagle, PhD., a professor at Duke University in the Nicholas School of the Environment and great friend of the Forest. See November 2015 posts on our Duke Forest Facebook Page for photos.

2014 Duke Forest Annual Gathering – November 13th
Least Wanted – Invasive Species and their Impacts on our Forests
Many thanks to everyone that participated in this year's annual gathering; it was our largest crowd yet with over 90 community members in attendance! The evening was fun-filled with wonderful food, wine, and conversations. Sara Childs, Duke Forest Director, provided highlights about activities on the forest in the last year and updates on several important projects. Jenna Schreiber, Duke Forest Operations Manager, presented on invasive plants affecting the Duke Forest; and our guest speaker Kelly Oten, Ph.D, with the NC Forest Service, gave a great talk about the emerald ash borer and thousand cankers disease – two relatively new invasive pests threatening North Carolina.
Duke Forest's graduate student assistants put together a wonderful resource table about invasive species with live specimens and lots of information sheets. We also unveiled the winners of our 3rd annual Duke Forest Photography Contest, and celebrated long-time and now retired Resource Manager, Judd Edeburn. He was presented with a plaque that will be located at the entrance of what is now the Edeburn Division.
See presentations and pictures from the evening below and check out this great post about the annual gathering written by Duke's Director of Research Communications.