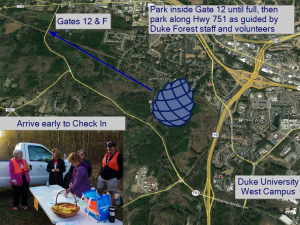 The Pine Cone Pacer will take place in the Durham Division of the Duke Forest, located just off of NC-751. Check-in and race start occurs inside Gate 12 (Google Map link). The finish line is located inside the adjacent Gate F, which visitors can access via a flagged, walking trail that connects the Gate 12 road to the Gate F picnic site.
From Duke's West Campus:
Head west on Cameron Blvd/NC-751 toward Hwy 15-501.
Travel straight thru the roundabout at (Old) Erwin Road.
From this point, Gate 12 will be ~3 miles on your left, where transmission lines cross the road.
If you reach Hillsborough Rd, you have gone too far; look for Duke Forest event signs!
Please park inside Gate 12 until full, and then park along Hwy 751 as directed by Duke Forest Staff.