Pine Cone Pacer: The Duke Forest 5K is a beautiful and challenging 5 kilometer (3.1 mi) run through the Duke Forest. Though many runners will be running to try to match their best time, many of our runners and walkers will choose to take it slow and enjoy the many landscapes of our Durham Division.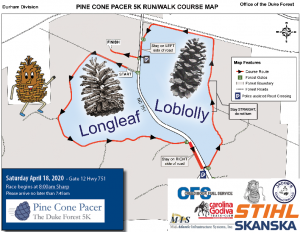 Runners begin on the Longleaf Loop, starting inside Gate 12 by one of the original stands of Longleaf Pine (North Carolina's state tree) planted by the first Duke Forest Director Clarence Korstian. The trail rounds a bend and ascends gradually into a beautiful hardwood forest and the Couch Mountain Significant Natural Area. After descending, runners will emerge from Gate 11 and run South along Hwy 751. They will be assisted across the road by police officers and enter the Forest again through Gate 10.
Here, runners begin the Loblolly Loop which is flat, relatively wide and dominated by the tall, swaying Loblolly Pines. Runners will pass the entrance to the off-limits mesocosm research site on the left, where countless open air studies of water quality and the effects of environmental pollutants have taken place. They will pass fields in various stages of secondary forest succession before rounding the bend back toward Hwy 751.
The last stretch is again South along the side of Hwy 751. Runners will cross the road aided by police to the entrance of Gate F. The finish line is just by our shelter down this short road, where you will be met by friends and neighbors and music and snacks.