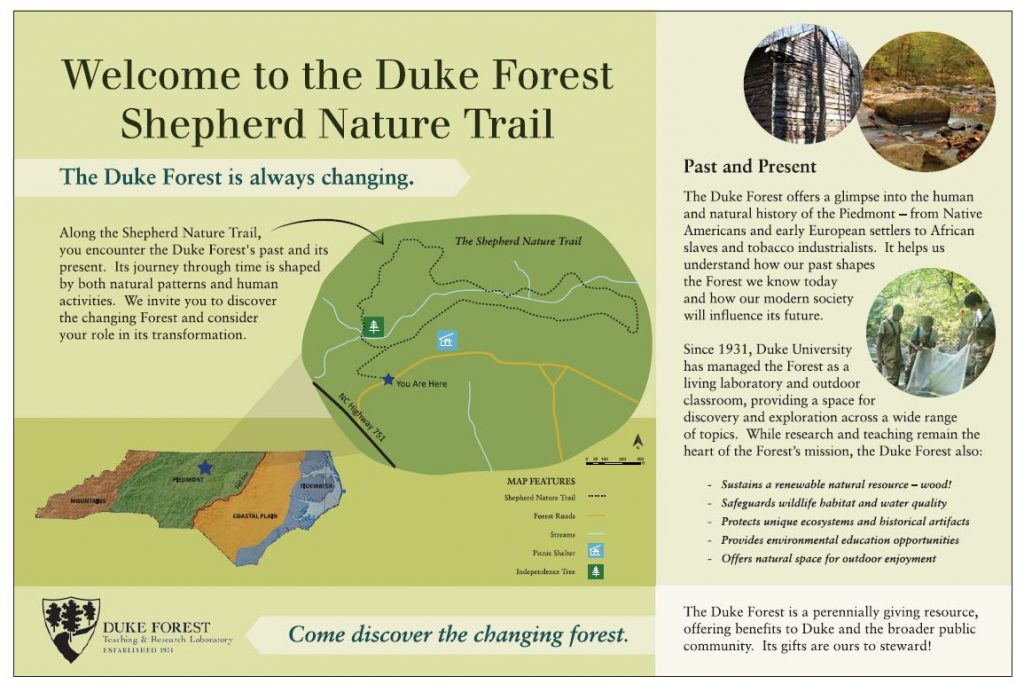 Located along Hwy 751 in the Duke Forest's Durham Division, the Shepherd Nature Trail offers a short, self-guided hike and provides a wonderful introduction to the Duke Forest. Throughout the 0.8 mile loop, you encounter signage that considers the natural patterns and human activities that have shaped the Forest's past and present. Each sign offers an opportunity to discover the changing Forest and consider your role in its transformation. Many trees along the trail also feature species identification signs for you to learn some of the most common NC Piedmont trees. For more information about the restoration of this trail, please click here.
360° Tour
Take a virtual tour of each stop on the Shepherd Nature Trail through the 360° photos provided by volunteer Ken Pugh in a Volunteer Photography Corps project.
Teaching & Group Resources
Are you a teacher or group leader planning a trip to the Shepherd Nature Trail?
Be sure to submit a Teaching Registration if you have a K-12 or university class or a Group Use Registration if you are bringing any kind of group (e.g. Girl Scout troop, church group, photography club, etc.).
Then, to help you plan, click here to review the interpretive trail signs before you head out.
If you would like to extend your activity, you may rent the Bobby Ross, Jr. Memorial Shelter located close to the trail head (see map below). The shelter can accommodate up to 50 people. There are no restrooms, but you may arrange a porta-potty. For more information and to submit a rental request, visit our Shelter Rental page.

Trail Map

Directions to the trail
Head west along Cameron Blvd/Hwy 751. Pass under the 15-501 bridge and travel straight through the roundabout. Look for the Shepherd Nature Trail sign and Gate C, approximately 1 mile past the roundabout, on your right. Parking is available along the graveled road shoulder. The trailhead is just a short walk past the gate and up the hill. Alternatively, use this link to generate directions: Google Map Link