After a two-year hiatus due to the pandemic, Duke Forest is leading its fourth year of the "herp" community science program, which engages volunteer scientists to monitor the amphibians and reptiles at specific sites in the Forest. Amphibians and reptiles—collectively known as herpetofauna—are increasingly important today as their populations are key indicators of the effects of climate change and habitat fragmentation on wildlife.
---
Purpose: We are looking for a dedicated team of community scientists to help us collect data on the herpetofauna of the Duke Forest. Community science is part of a larger effort underway at the Duke Forest to better protect the wildlife species that call it home.
By collecting data at identified sites in the Forest over time, we can learn more about the herpetofauna that currently exist and how to better manage the Forest so that they thrive. We can also share this data with wildlife biologists, faculty, and students that have particular teaching and research interests in these animals.
Accepted applicants may participate in Session 1 (March 2 – June 26, plus February trainings), Session 2 (July 13 – October 30, plus June trainings), or the Full Season (March 2 – October 30). Please read the full program details and apply below.
Impact: Duke Forest is reworking its approach to wildlife management with the ultimate aim of implementing management actions that actively protect and promote the wildlife species that call it home. The first step is building up our baseline understanding of the animal populations that live in the Duke Forest, and this is where community science comes in. The data community scientists collect help us answer basic questions like – What animals still live here? When are they active? How many are there? And it's not just the Duke Forest management team that's interested in this information. Duke faculty and students directly incorporate these data into research and class projects. Wildlife biologists and conservation partners can use them to map animal distributions and wildlife connectivity.
Science Advisor: Nicolette Cagle, Ph. D., Nicholas School for the Environment professor, Read more about Nicki here.
Time Commitment: Each community scientist is placed on a team. During each Session of the program, at least two members from each team will be responsible for completing 1 monitoring visit every week. A monitoring visit consists of both field data collection and computer-based data entry. The total time commitment per week is ~1-2 hours (excluding travel time). Each community scientist is responsible for participating in team communications to coordinate weekly activity.
Walking in a forested environment involves obstacles, uneven surfaces, significant slopes, and long distances. Mobility consistent with that demonstrated in the video on the right is required for participation in this program. For those with less mobility, there may still be other ways to contribute to this project. Please let us know if you have concerns about walking in the forest environment, but would still like to participate.
Covid-19 Safety: The Herpetofauna Program's covid policy follows the covid-19 safety policies of Duke University, found at coronavirus.duke.edu. Community scientists will be required to sign a waiver and are highly encouraged to be vaccinated and boosted. Data collection requires participants from various households to work together in small groups without the possibility of social distancing. We ask all participants to be respectful of those who prefer to wear a facemask.

2022 Season Schedule:
SESSION 1:
Feb 1 – Session 1 and Full Season Applications Open
Feb 21, from 6-8pm – Session 1 Required Virtual Training
Feb 27, from 1-3pm – Session 1 Required Outdoor, In-Person Training
Mar 2 – First Transect Visits Session 1
Mar – June – transect visits
June 26 – End of Session 1

SESSION 2:
May 16 – Session 2 Announcement and Application Opens
June 15, 6-8pm – Session 2 Required Virtual Training
June 18, 9-11am – Session 2 Required In-Person Training
week of June 20th – New participants visit and observe the final week of Session 1 transect monitoring
July 13 – First Transect Visits Session 2
July – Oct – transect visits
Oct 30 – End of Session 2; End of 2022 Program

Training: All participants (even returning participants) must attend the virtual AND in-person trainings. The Session 2 Virtual Training will be held Wednesday, June 15 from 6-8pm on Zoom and the In-Person training will be held Saturday, June 18 from 9-11am, outdoors in Durham, NC.
*IMPORTANT* – Full Season participants who have completed Session 1 will be required to attend a brief portion of the Session 2 In-Person Training on June 18th to meet and plan with their new team members. Otherwise, they do not need to "re-do" the remainder of the orientation trainings.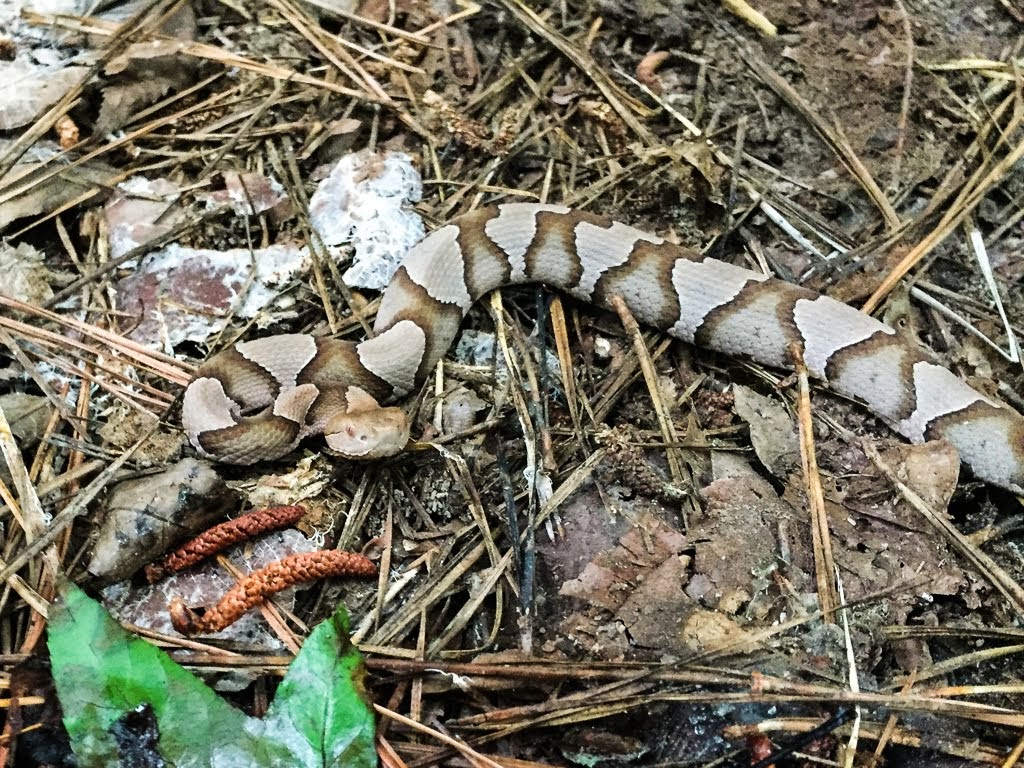 ---
2019 Herps Observed
(This program was cancelled in early 2020 due to the pandemic, so this is our most recent, full-season data. We're grateful and excited to be starting up again after a 2 year hiatus!)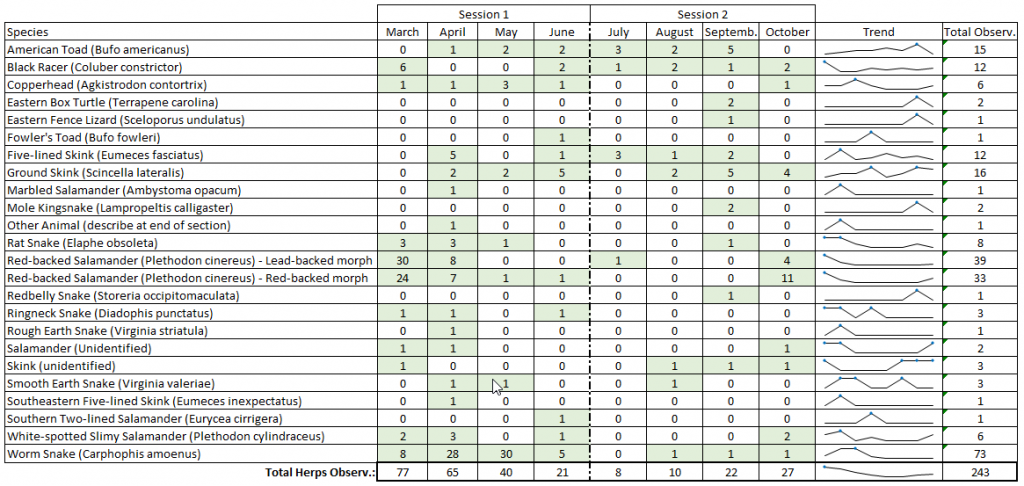 ---

Please fill out the application linked below to indicate your desire to participate in Session 2. This is an application and does not guarantee inclusion in the program. We will contact you if we require additional information or to provide additional program details. Please also note a couple of important points:
Must attend both of the two trainings led by Duke Forest staff on June 15th (virtual) and June 18th (outdoor, in-person) for Session 2 participation. For this Community Science program, attendance at the trainings is required in order to participate.
Must be 16 or older (under 18 will require parental consent).
Must be able to spend an average of 1-2 hours per week in the field and at home submitting data (your team will share some of the work).
Must be able to participate in at least a full Session 2 schedule: (June – October).
Will not be asked and are not allowed to directly handle the animals.
Will work in teams, and must be willing and able to communicate clearly and work together to schedule visits, observe, and enter data. If you have a friend or partner who would like to participate, please invite them to register and indicate it on your registration survey form if you would like to be paired with them on a team. All interested individuals must apply and all must attend the training sessions.
Several of our current, Session 1 "Herp" Program volunteers are continuing their involvement, so there are a limited number of slots available for Session 2. The current application deadline is Sunday, June 12, but we may close the application early if we receive an abundance of applicants. Applicants will hear back about their acceptance into the program in early to mid-June.
---
---