As we approach the Duke Forest's 90th anniversary, the Office of the Duke Forest is excited to announce the creation of a new way for Duke alumni, Forest neighbors, and the local community to show support for this dynamic land base.
The Duke Forest is a perennially giving resource, and its gifts are ours to steward.
Friends enjoy spending time with their families recreating beneath the trees, and they appreciate that the entire forest ecosystem is hard at work fulfilling its critical mission as a teaching and research laboratory. They understand the many benefits that make the Duke Forest more than just the woods:
An outdoor classroom and living laboratory
…inviting students and teachers of all ages, disciplines, and backgrounds.
A responsibly-managed working forest
…demonstrating renewable resource extraction and best management practices.
A bastion of diverse habitats
…protecting plants, wildlife, and ecosystem services.
An environmental education and outreach tool
…offering opportunities to learn about natural resources and forest management.
An aesthetic and recreational resource
…alleviating our collective nature deficit disorder.
How to become a Friend
Becoming a Friend of the Duke Forest to show your dedication and love for this resource is simple. By donating $50 or more annually to the Duke Forest Improvement Fund:
Office of the Duke Forest
Duke University
Box 90332
Durham, NC 27708
Make a Friends Gift Now
Benefits of being a Friend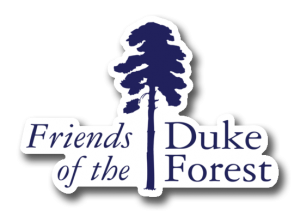 Friends of the Duke Forest car sticker (right)
Early registration access for Tours and Events (when it is safe to host them again).
Recognition in the annual The Duke Forest LOG newsletter
The knowledge that you are contributing to an incredible academic, environmental, and community resource.