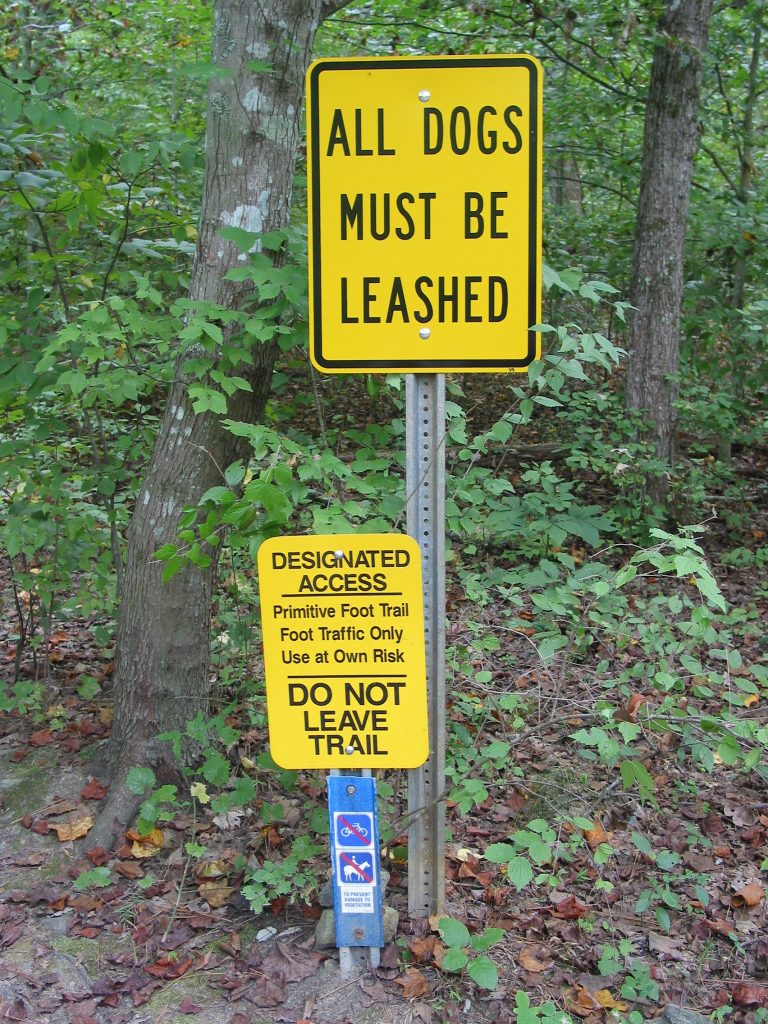 Duke Forest is private land owned and managed by Duke University for research and teaching purposes. Limited public use of the Forest is permitted as long as it does not conflict with research and teaching activities. Help us in our Good Leashes Make Good Neighbors campaign by leashing your pups and educating others (if you feel comfortable).
Each year Duke Forest has over 50,000 dog visits. Many of these dogs are unfortunately unleashed. The numerous unleashed dogs are having a negative impact on the Forest's ecology and its ability to support certain research activities.
The Duke Forest is not a place to bring your dog off-leash. It is a teaching and research laboratory —not a park.
Duke Forest requires that all dogs be leashed and that visitors and their pets stay on established roads and trails. Additionally, please do not allow dogs to walk, dig, or swim by going off of the road / trail bed. Many important, native spring ephemeral flowers exist right on the edges of trails — most of the year in their dormant state. These delicate and important native flowers can be destroyed by a single dog's paw. We have research sites in New Hope Creek and other tributaries around the Forest, and we strive to protect the delicate ecosystems home to many important aquatic species.
We will submit formal trespass documentation to Duke police about owners who are repeatedly asked to leash their dogs or to dogs and their owners whose dogs are aggressive and bite or assault other visitors to the Forest. These behaviors are unacceptable.
Please read our FAQ about leashes below.
---
A note about dog poo:
Please bring doggy poo bags with you if you plan on walking your pups in the Duke Forest. No bags are provided. Dog poop contains bacteria and is high in nitrogen and phosphorus nutrients that negatively affect our creeks and streams. It also impacts research sites, some of which are located very near to trails. Please also remove all poop bags and do not leave them beside the trail or at trailheads.
FAQ's
Why must I leash my dog while visiting the Duke Forest?
– Dogs can trample understory plants and negatively impact research projects.
– Unleashed dogs disturb ground-nesting birds and other wildlife.
– Unleashed dogs can make other visitors uncomfortable.
– Dogs that come into contact with wildlife risk contracting rabies.
– Unleashed dogs are at a higher risk of getting lost.
What is an appropriate leash?
Both Durham and Orange County have "Leash Laws" which are enforceable by fines. These laws apply to any dog "at large" (off of the owner's property and not under adequate restraint). In the Duke Forest, which is private property, leashes kept to 6ft or less in length are the only adequate restraint. Electronic collar restraints are not allowed.
Durham County Ordinance
But my dog is voice trained …
Voice command is not adequate restraint.
Again, in the Duke Forest, which is private property, leashes kept to 6ft or less in length are the only adequate restraint.
Are there area "dog parks" where my dog is allowed to be unleashed?
There are many dog parks across Durham and Orange Counties. Please visit this link on BringFido.com to find your nearest off-leash dog park.