The Office of the Duke Forest maintains a comprehensive collection of datasets, maps, and records that are available upon request.
Much of the Forest's spatial data are also available in a GIS format which can be downloaded upon special request. Contact the Office of the Duke Forest to discuss your specific needs (dukeforest@duke.edu or 919-613-8013).
Long-term Data
During the 1930s and 40s, Duke scientists such as Drs. Korstian, Coile, Oosting, and Billings pioneered research in the fields of forestry and ecology with their work in Duke Forest. These early researchers were meticulous record keepers who permanently marked their sample areas. Data from their inventories and permanent sample plots continue to provide a long-term scientific record that illustrates changes in the forest ecosystem. The availability of this comprehensive database, along with the Duke Forest collection of maps and silvicultural records, has established the Forest as an ideal site for long-term ecological research. Click here for more information.
---
Duke University Archive
In the fall of 2018, the Office of the Duke Forest transferred all relevant historical records and data to the archives at Duke University Libraries. Formal archiving and indexing will allow this data to be accessed and utilized more efficiently for years to come. The collection includes maps, aerial photographs of the Forest, notes and correspondence related to research projects, ledgers documenting lumber sales, details of forest plots, information on types of vegetations and tasks performed including thinning, data and statistics, and many other materials.
Click here for more information.
---
Duke University Herbarium
Duke University has one of the largest herbaria in the country with over 800,000 specimens of vascular plants. The Duke Herbarium is the second largest of private universities and the 12th largest overall in the country. Many specimens come from the Duke Forest. Learn more about visiting and viewing the collections in the furtherance of your research by visiting herbarium.duke.edu.
---
GIS Data
Much of the Forest's spatial data are also available in a geographic information system (GIS) format and can be downloaded by special request. Contact the Office of the Duke Forest to discuss your specific needs (dukeforest@duke.edu, 919-613-8013).
The Duke Forest GIS database includes the following shapefiles and raster images:
Property boundaries
Political boundaries/tax parcels
Forest covertypes (1931 to 2009)
Forest management activities (1931 to present)
Creeks/streams
Topography
Soils
Public and forest roads
Foot trails
Natural Heritage Areas
Long-term research plots
Research towers and other forest infrastructure
Aerial photos (true-color, color infrared, black-and-white)
Historical/archaeological sites
---
Maps
Available maps include information regarding topography, soil types, stand management operations (1931 to present), boundaries, and covertype maps.
---
Management Records
Detailed records of management activities dating back to 1931 are available in paper format. Most management-related maps have also been converted to a GIS shapefile format.
---
Aerial Photographs
The aerial photo collection spans from 1937 through 1997. Early photos are black & white, while more recent photos are available in color infrared. Use of aerial photography in mapping is made simple via NC One Map, a public service providing comprehensive discovery and access to North Carolina's geospatial data resources. The Duke Forest database contains the following aerials: Available photos >
---
Weather Data
Currently, there are two weather stations collecting data on the Duke Forest, both located in the Blackwood Division in Orange County. Data can be downloaded from these stations, dating back to 2000.
NOAA – Climate Reference Network
US Forest Service, Bureau of Land Management, National Interagency Fire Center – RAW Station – Maintained by NC Forest Service
---
Species Lists
The Forest maintains several annotated lists of plant and animal species found within the Forest's boundaries. Some of these may be found in our Forest Environment section (see plants and wildlife).
---
Herpetofauna Data
There are six transects in the Durham Division in various habitats with data dating back to 2007. Volunteers in the Herpetofauna of the Duke Forest citizen science program continue to add data to this collection March through October. Full data (XLS) is available by request.
Below is chart of species observed in the 2019 season: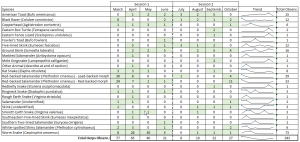 We have a collection of data from Duke herpetologist Dr. Joe Bailey's herpetofauna thanks to a partnership with the NC Museum of Natural Sciences and support from some generous donors who supported the digitizing process in 2019. The records were collected between the 1960s and the 1980s. This collection consists of over 1,200 records.
---
Clark Lab Data
Long-term data on soil moisture for all of the Clark Lab plots in the Duke Forest is available at the Clark Lab website.
Also look into a collaborative project with eMammal, NC State University and the NC Museum of Natural Sciences called "Mast and Mammals".
---
White-tailed Deer Management Data
We can provide researchers comprehensive data sets from our annual deer herd reduction program performed in partnership with researchers from the North Carolina Wildlife Resources Commission and trained hunters from the North Carolina Bowhunters Association. Data include deer takes, deer demographics (sex, age, weight), hunting statistics, and spotlight survey data.   .
---
Leaf Color Phenology Photos
View daily pictures of forest cover taken from the Hardwood tower in the Blackwood Division of Duke Forest. These pictures are part of the PhenoCam Network from the University of New Hampshire. See the Duke Forest repository here.
Current Image:
---
Habitat Connectivity: Eno-New Hope Landscape Conversation Plan
The Eno-New Hope Landscape Conservation Plan was produced by a collaboration among local governments, conservation groups, universities, and ecologists and focuses on the critical importance of habitat connectivity for wildlife in the Eno River and New Hope Creek watersheds in Chatham, Durham, Orange and Wake counties. The Landscape Plan is a Partners for Green Growth project funded by the North Carolina Wildlife Resources Commission and Orange County, NC, and administered by the North Carolina Botanical Garden Foundation, Inc.
Click the cover to view and download the report.