Effective July 1, 2021: The Office of the Duke Forest has opened the shelter rental process to the general public. Individuals are strongly encouraged to be vaccinated. Please note that any reservation may be canceled at any time if pandemic conditions change.
Effective August 26, 2021: In addition to vaccination, individuals are strongly encouraged to wear masks outdoors while in groups. Transmission among unmasked individuals regardless of vaccination status is occurring.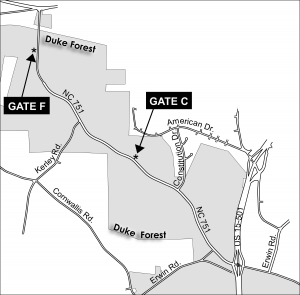 Duke Forest maintains two picnic shelters located off of Highway 751 that are available to rent. Descriptions of each site are found below. To make shelter reservations, you must complete the shelter reservation form linked below and receive confirmation from Duke Forest staff. Please Note: Duke undergraduates have a different process listed at the bottom of the page.
---
Bobby Ross, Jr. Memorial Shelter (Gate C)
The Bobby Ross, Jr. Memorial Shelter includes a picnic shelter with a Duke stone fireplace, four large picnic tables (50-75 person capacity; but parking for ~25 cars), and a grill. The site is near the head of the Shepherd Nature Trail, a beautiful 0.8 mile interpretive trail. The site does not have an outhouse, electricity, or running water. The shelter is situated near the trail head for the Shepherd Nature Trail, a self-guided 0.8-mile trail through the surrounding Forest. Read a comparison of the picnic shelter facilities below. Fee: $55.00
The combination to the entrance gate and firewood box locks will be sent when payment has been received.
Directions (MAP)
Follow NC 751 north towards U.S. 70
Gate C will be the second gate on the right past Constitution Dr.
GPS Coordinates: 36.012, -78.974
---
R.L. Rigsbee Shelter (Gate F)
The R. L. Rigsbee Shelter includes a picnic shelter, several tables (50 person capacity), grill, outhouse, and a volleyball court (ball not provided). The site does offer electricity and lights but no running water.
Read a comparison of the picnic shelter facilities below. Fee: $65.00
The combination to the lock for the entrance gate and the power box will be sent when payment has been received.
Directions (MAP)
Follow NC 751 north towards U.S. 70 and pass Kerley Rd.
Gate F will be the on the left immediately after Gate 12 (under the power lines) and before the railroad bridge
GPS Coordinates: 36.0265, -78.9893
---
Comparison of Picnic Shelter Facilities
Bobby Ross, Jr. Shelter
(Gate C)
R.L. Rigsbee Shelter
(Gate F)
Capacity

50-75 persons

parking for ~25 cars

50 persons

Outhouse
–

Yes

Electricity
–
Yes
Lighting
–
Yes
Fireplace
Yes
–
Fire Ring
–
Yes
Volleyball Court
–
Yes
Nature Trail
Yes
–
Running Water
–
–
---
Before requesting a shelter reservation please read the following carefully:
If you are a member of the public, or a member Duke University community (but not including undergraduates), please read the General Public Regulations.
If you are Duke undergraduate student or undergraduate student group, your reservation process is different. Please read the information under Undergraduate Student Reservation Process below.
If you plan to have alcohol at your event, you must read and agree to abide by Duke's campus-wide Alcohol Policy, assuring all additional regulations (Undergraduate Alcohol Policy | Graduate Alcohol Policy) are followed if undergraduate students and/or persons under age 21 will be or may be in attendance.
Groups wishing to bring in special equipment or items such as portable toilets, tents, catering facilities, etc. must identify this in their initial shelter request and receive authorization from the department administrator prior to completing the reservation process. You will be responsible for coordinating all deliveries and pickups related to the special equipment. If your equipment requires extra days for delivery or pickup, you must book those additional days as well–except in some special cases.
When you reserve a shelter, we will add you to our e-News newsletter so you can keep in touch with the Duke Forest. You can unsubscribe at any time.
---
An Important Policy on Firewood:
We do not allow firewood to be brought into the forest; instead, we provide it for you. Unfortunately, firewood is a great way for many forest pests and diseases to catch a ride and find new forests to eat. Check out this brochure for more info: Don't Move Firewood.
---
Rental Request Form
---
Undergraduate Student Reservation Process
Student safety is our number one priority. For that reason and for the protection of the Duke Forest and its infrastructure, we require all undergraduates at Duke (or any other local school) to follow these procedures in the linked form below.