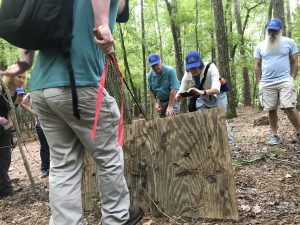 2021 Season Postponed
We have decided to postpone the fall season of Herpetofauna of the Duke Forest, our citizen science program studying the reptiles and amphibians of the Duke Forest. Because of the highly variable pandemic guidance, uncertainty about the ability to host an in-person orientation, and the challenges our small staff face in preparing for just a short fall season, we are instead planning on a robust and full season in 2022. Applications will open in January for a late February orientation, and transect visits will begin in March.
---
Duke Forest is launching its third year of the "herp" citizen science program, which uses volunteer scientists to monitor the amphibians and reptiles at specific sites in the Forest. Amphibians and reptiles—collectively known as herpetofauna—are increasingly important today as their populations are key indicators of the effects of climate change and habitat fragmentation on wildlife.
Purpose: We are looking for a dedicated team of citizen scientists to help us collect data on the herpetofauna of the Duke Forest. Citizen science is part of a larger effort underway at the Duke Forest to better protect the wildlife species that call it home.
By collecting data at identified sites in the Forest over time, we can learn more about the herpetofauna that currently exist and how to better manage the Forest so that they thrive. We also share this data with wildlife biologists, faculty, and students that have particular teaching and research interests in these animals.
You may participate in Session 1 (March 4 – June 28), Session 2 (July 10 – October 31), or the Full Season (March 4 – October 31). Please apply below for Session 1 or the Full Season.
Impact: Duke Forest is reworking its approach to wildlife management with the ultimate aim of implementing management actions that actively protect and promote the wildlife species that call it home. The first step is building up our baseline understanding of the animal populations that live in the Duke Forest, and this is where citizen science comes in. The data citizen scientists collect help us answer basic questions like – What animals still live here? When are they active? How many are there? And it's not just the Duke Forest management team that's interested in this information. Duke faculty and students directly incorporate these data into research and class projects. Wildlife biologists and conservation partners can use them to map animal distributions and wildlife connectivity.
Science Advisor: Nicolette Cagle, Ph. D., Nicholas School for the Environment professor, Read more about Nicki here
Commitment: Each citizen scientist is placed on a team, and at least two members from each team will be responsible for completing 1 monitoring visit every week for ~14 weeks. A monitoring visit consists of both field data collection and smartphone or computer-based data entry. The total time commitment per week is ~ 1 – 2 hours (excluding travel time). Each citizen scientist is responsible for participating in team communications to coordinate weekly activity.
Season Schedule:
Jan 29 – Session 1 and Full Season Applications Open
Feb 29 – Session 1 Required Training
Mar 4 – First Visits Session 1
Mar – Jun – transect visits
May 7 – Session 2 Announcement and Application Opens
Jun 5 – Last Day to Apply
June 13 – Session 2 Required Training (date not yet confirmed)
June 13 – June 28 – (Optional) Session 2 Vols visit transects with new team
June 28 – End of Session 1
June 29 – July 4 – Between Session Holiday Break – No visits
July 10 – First Visits Session 2
Jul – Oct – transect visits
October 31 – End of Session 2; End of Program
Training: All participants must attend the training. Session 1 Training will be held Feb 29, 9am-12pm; Session 2 Training will be held Jun 13, 9am-12pm (not confirmed) – Both trainings will be held in Durham, NC. Session 1 participants will be required to attend a brief portion of the Session 2 Training to meet and plan with their new team members.
---
2019 Herps Observed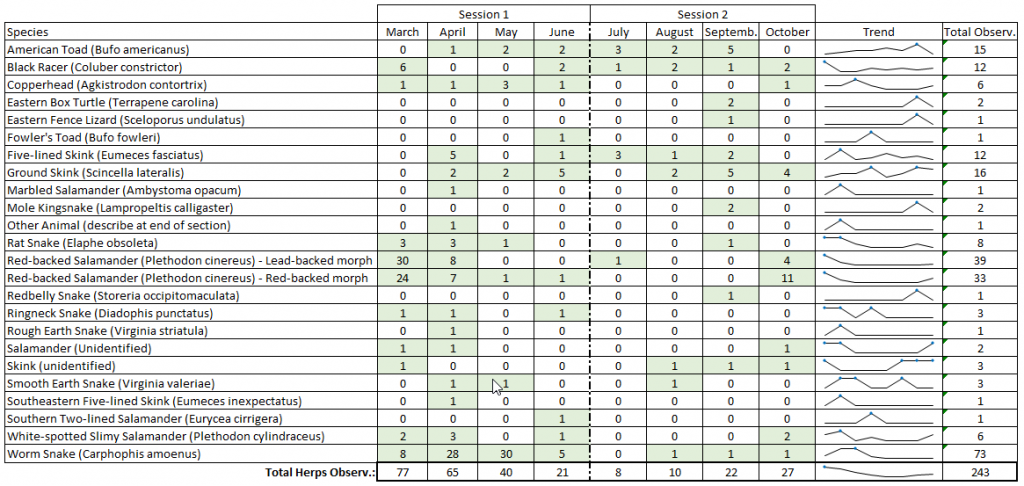 ---

Please fill out the application linked below by February 19 to indicate your desire to participate in Session 2. This is an application and does not guarantee inclusion in the program. We will contact you if we require additional information or to provide additional program details. Please also note a couple of important points:
Must attend one of the two trainings led by Duke Forest staff on February 29th (for Session 1 or Full Season) or June 13th (for Session 2) to participate. For this Citizen Science program, attendance at a training is required in order to participate.
Must be 16 or older (under 18 will require parental consent).
Must be able to spend an average of 1-2 hours per week in the field and at home submitting data (your team will share some of the work).
Must be able to participate in at least full session: First (March – June) and/or Second (June – October) or the whole season.
Will not be asked and are not allowed to directly handle the animals.
Will work in teams, and must be willing and able to communicate clearly and work together to schedule visits, observe, and enter data. If you have a friend or partner or two who would like to participate, please invite them to register and indicate it on your registration survey form if you would like to be paired with them on a team. All must apply and all must attend the training sessions.
---
---